By Our Correspondent
As the agitation for a Nigerian President of Igbo extraction intensifies, there are strong indications that the Peoples Democratic Party (PDP) is considering fielding former President Goodluck Azikiwe Jonathan and a former Kano State governor, Rabiu Musa Kwankwaso to fly the party's flag in the 2023 presidential election; BrandiQ has learnt.
A source who spoke to BrandiQ on condition of anonymity said: "yes, we are seriously considering a Jonathan/Kwankwaso ticket for 2023. As you know, Jonathan is a gentleman and a bridge builder that would be widely accepted by both the south-east and south-south. That he conceded defeat in 2015 shows he has the best interest of Nigeria at heart. He could have devised strategies to remain in power, but he chose what was best for Nigeria at that period."
Our source also said it is high time Nigeria "look eastward" and bring the Igbos into the mainstream Nigerian politics in a true sense. "Unless we want to play the ostrich, we all know that collectively we have wronged the Igbos. In all honesty, I cannot say they were fully integrated into Nigeria despite the three "Rs" of the Gowon administration after the end of the civil war in 1970."
He added that since the south-west was "compensated" for the injustice of the annulled June 12, 1993 election, he sees no reason why such a gesture should not be extended to the Igbos. "Recollect that during the 1999 election there was a consensus that the two major parties – the PDP and Alliance for Democracy – should field only Yoruba candidates. That only happened because there was a national consensus when it became apparent that Nigeria would not move forward without addressing the June 12 issue. We are again at that point; so, unless we address the issue of Igbo presidency we may just be fooling ourselves."
On why no other candidate is on the mind of the PDP, the source stated: "We are concerned about a candidate that would be widely accepted across the country; Jonathan is such a candidate for now. Recollect that he was widely supported in the south-east and the Igbos say he is their son. I can't see an Igbo candidate that would be widely accepted by the north like Jonathan. Northerners love Jonathan and the north is the largest voting bloc in the country. This is politics, and in politics, your intention is to win the election and the best route that takes you there is the route you follow. Kwankwaso is also a very strong politician that is well known and will be widely accepted across the country, he will make a good running mate to Jonathan."
Asked about the yet to be declared presidential aspiration of Asiwaju Bola Tinubu, and indeed the south-west for the presidency, he stated: "Nigeria has been fair to the south-west, we can all agree on that. Former President Olusegun Obasanjo was the president for eight years. Vice President Yemi Osinbajo would have served for eight years by 2023, so it is only fair to give the Igbos a fair shot at the presidency of Nigeria. They are also Nigerians."
He stressed that the agitation for Biafra is a clear indication that the south-east feel they are not part of Nigeria, "Unless we manage the situation through political compromise, we might play into the hands of extremist elements that we may not be able to contain if the agitation becomes violent. We have always lent backwards each time Nigeria is on the brink and I feel we should lean backwards and assuage our brothers from the south-east that they are Nigerians like every one of us."
Managing Nigeria's Delicate Identity Politics
It would be recalled that when it was in power for 16 years, the PDP had a "gentleman agreement" in which power would rotate between the north and the south. This unwritten agreement has remained the norm embraced by almost all political parties in the country. This was the norm that guided the 2019 election when the PDP and APC fielded northern candidates in President Muhammadu Buhari and former Vice President Atiku Abubakar.
Early last month, Mallam Mamman Daura, an elder statesman and nephew to president Buhari caused a ruckus when he suggested that we jettison the zoning formula for presidential selection to a meritocratic one. The timing of Daura's submission appears not accidental but a deliberate one. Some analysts say he was merely flying a political kite. In spite of the president's apparent inertness about the politics of his succession, there is obvious subterranean turmoil in the APC on the matter of Nigeria after Buhari presidency. Therefore, for a man who has close family ties with the president and whose present place of abode is within the precincts of the presidential villa, to offer unsolicited advice on a matter so strategic is not accidental hence the national reaction to his call was quite loud. This prompted the Presidency to say the opinion was private and do not reflect that of the APC led federal government.
This notwithstanding, it would be politically naive not to interrogate Daura's position further. For starters, he is a member of the rumoured unofficial 'cabinet' or 'shadow cabinet' that included the late Abba Kyari, late Ismaila Funtua, Babagana Kingibe and a few others. Together, these gentlemen are believed to constitute the infamous Aso Rock 'cabal' on which so much gossip and fiction have been lavished. In a nation ruled often by authentic hearsay, it would be dangerous either to believe in the endless powers of this 'cabal' just as it would be foolish to dismiss its existence and lethal impact on public policy and the political destiny of the Buhari presidency.
Ordinarily, a call for a meritocratic parameter for presidential selection over and above the present north-south zoning arrangement should have been the norm. In a serious polity, parties ought to put forward the best candidate to the electorate irrespective of ethnicity, geo-politics or religion. That is the ideal of liberal democracy in an enlightened political order. But Nigeria is unlike no other country. Our history and political evolution are like no other. A delicate balance of power between a Moslem north and Christian south has remained the unwritten code for stability in Nigerian history. Previous dislocations haven't gone down well. It remains the pipe through which equity – Nigerian style – flows.
That political equity was at play even during the era of military rule. When General Murtala Mohammed, a Moslem head of state was assassinated in 1976, he was succeeded by his Yoruba Chief of Staff, Supreme Headquarters, then Major General Olusegun Obasanjo. In order of military seniority, Obasanjo's deputy should have been Lt. Gen. Theophilus Danjuma, another Christian and Chief of Army Staff. In deference to the bipolar equation and in the interest of national stability, Lt. Gen. Danjuma assented to the elevation of the much more junior officer, then Lt. Col. Shehu Musa Yar'dua as Obasanjo's deputy. Yar'dua was promoted to a Brigadier General, effectively skipping the rank of full colonel, to become the Chief of Staff, Supreme Headquarters.
Is An Igbo Presidency Feasible?
The threats to the political order that necessitate the zoning, in the first instance, are potent now more than ever. They threaten Nigeria under Buhari and will after him. Fear of religious and geopolitical lopsidedness and potent sectional domination is today stronger than ever making the nation more divided than at any time in its history, except during the civil war. The re-emergence of different regional, ethnic and religious factions has assumed an even more frightening dimension. The federalist hegemony on the basis of which Nigeria's political order was reconstructed after the civil war in 1970 has been badly eroded over the past five years. Agitations and clamours for restructuring, true federalism, confederation, secession, ethnic self -determination and other separatist agenda have been fully activated under the administration of President Buhari; and it may only get worse, except something gives.
It is perhaps against this delicate backdrop that the PDP is seriously considering an Igbo presidency.  At this moment, it will only be fair and just to push for justice for the people of the south-east and begin to heal the pains and hurts of the civil war. It was this politics of moral justification that produced the Obasanjo presidency. It will therefore be proper if it leads to an Igbo president in 2023. And yet, as plausible as this argument sounds, there seem to be some contradictions in the positions taken by the political class, especially politicians from the South East.
Contradiction of Positions
In the first place, it is surprising that anyone would be talking about PDP featuring Jonathan who hails from the South-South, and who has been a president before; whereas the call is for a president of Nigeria from the South East. It also appears that most Nigerians, especially northerners, do not clearly understand the demarcation between one eastern state from the other. To some, as far as they are concerned, anyone from the old eastern region is Igbo. So, Jonathan is Igbo. After all, his name is Ebele Azikiwe, and the Igbos massively supported him.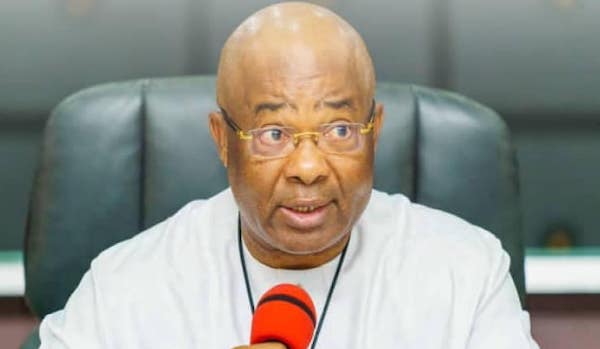 The second surprise is that, whereas most Nigerians are beginning to see reason in supporting the cause of Nigerian president from Igbo extraction, it appears the Igbos are not really clear about what they want. For instance, recently former Speaker Ghali Nabba lent his voice in supporting the need for a Nigerian president of Igbo extraction, but his counterparts such as the Imo State Governor, Senator Hope Uzodimma, and the former Governor of Abia State, Senator Orji Uzor Kalu, appear to see things differently.
Tuesday, this week, Ghali Na'Abba – known for his good working relationship with the then Dr Chuba Okadigbo as the Senate President said "South East has enough competent hands that can run the affairs of the country. Some of my best friends are from the south-east geo-political zone… if they bring a competent hand I will support them."
However, whereas Na'Abba is thumbs up for Igbo presidency, Governor Hope Uzodimma views it differently. In an interview granted a national newspaper on the same Tuesday, September 1, he said "Well you know the position is not vacant now, there is a sitting President and we are practising partisan democracy and not tribal democracy. So the emergence of presidential candidate will come on the party by party basis, not by tribe by tribe basis (sic). But if there are other internal factors that will form part of the considerations for parties taking a decision, of course, that will be entirely the job of the leadership of those political parties and I think that is the right thing to do."
Within the same week, Orji Uzo Kalu visited the former military President Ibrahim Babangida and General Abdulsalami Abubakar. Fielding questions to journalists after the visit he said, "Parties have every right to say where their candidates of election will come from. But, in APC we have no issue of zoning. Anybody can contest for election, anybody can do anything…it is not in the constitution of APC, so as long as it not a constitutional matter of APC the president is an open basket where anybody can contest".
Considering that many people from both north and south in Nigeria are supporting the presidency of Igbo extraction based on equity, fairness, and inclusiveness, would it be a contradiction that some Igbo political leaders are taking a different rhetorical curve? No one can say. It may just be a matter of tact and strategy or a matter of political naivety. Maybe time will tell.