Glitz, glamour and accolades poured in for the Engr Adewale Gbajobi led Executives Committee at the Annual General Meeting of the Lekki Atlantic Gardens Residents Association (LAGRA), Alabeko, Ajah, Lagos, held on Saturday at its newly renovated Secretariat, Alabeko, Lagos.
The meeting which was held with strict adherence with the COVID-19 precautionary measures was an avenue for the Executives who have been piloting the affairs of the Estate to give account of stewardship to the governed, recount challenges and areas that needed improvement in the coming years so as to move the Estate forward.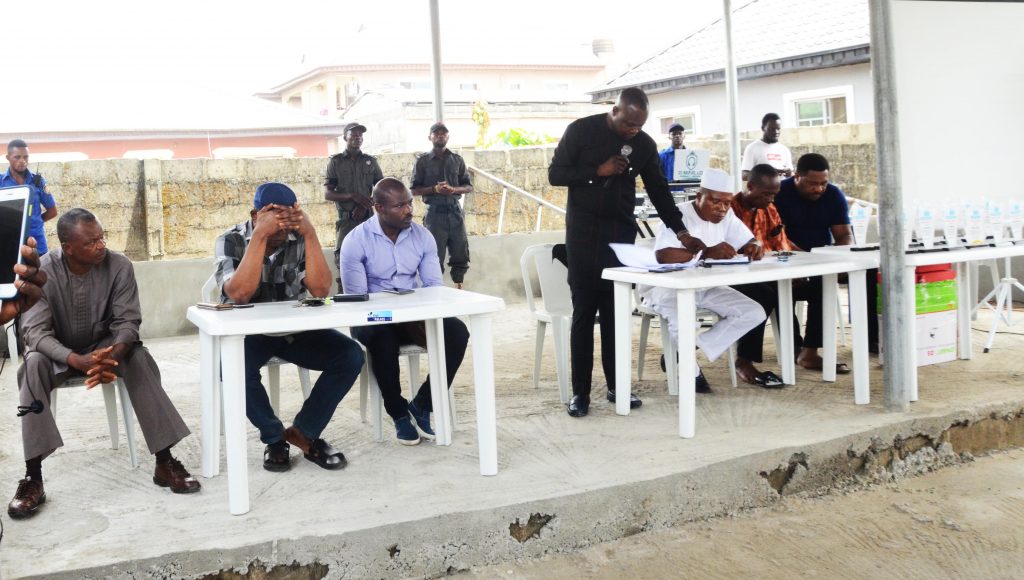 The Chairman, Engr Adewale Gbajobi, whose vision and passion are the driving force for the administration, reflected on how he met the Estate with empty treasury, but summoned the courage to make things happen, even in the face of daunting challenges, when he and his EXCOS had to go extra mile by tasking themselves financially to maintain some of the Estate's facilities until there was a financial breakthrough owing to his EXCOS uncommon ingenuity and creativity, who think out of the box to make things happen, inspired and encouraged by the residents' unflinching supports and cooperation at all times.
Also, following a detailed x-rayed of the close to two years administration, especially the financial accountability and records astutely handled by the Administration's Financial Secretary, Mr Abiodun Akinyemi, the residents who praised them for being accountable enjoined them to implement a couple of policies recommended by the external auditors who also gave the reports of the independent auditing that day.
As contained in the Chairman's speech, the Executives also used the opportunity to show gratitude to those its due with the Awards and this noble initiative, in no small measure, added glitz and glamour to the event.
The Chairman who attributed the successes recorded in the areas of Infrastructure, Security, Ratification, Electricity among others to his EXCOS who are spectacular in discharging their duties, appreciated them immensely and wished them the best in their next human endeavours.
Read the Full Text of the the Chairman's Speech at the LAGRA AGM below:
Good Afternoon, ladies and gentlemen, all protocols duly observed!
My name is Engr Adewale Gbajobi, the outgoing Chairman of the Lekki Atlantic Gardens Residents Association (LAGRA), Alabeko, Eti-Osa Local Government Area of Lagos State
It gives me immense pleasure to welcome you all to this Annual General Meeting of the LEKKI ATLANTIC GARDENS, ALABEKO, LAGOS. I trust your family and you are keeping well and safe in the midst of the unprecedented pandemic COVID-19.
May I take you a bit back to the memory lane, just a quick overview of how we met the ATLANTIC GARDENS almost two years ago as an Estate without a DEFINITION and even one wouldn't make a mistake calling it a mere community in dire need of direction, organization and responsible leadership for re-definition in all ramifications.
As at the time we took over on May 2019, did an holistic assessment of what was left of LEKKI ATLANTIC GARDENS and an exclusive check up for her health, we found out we were in for a serious work and challenges, worsened by an 'inherited empty pause' from the previous administration but we never let this deter us, we rather summoned courage, picked up the pieces, rolled up our sleeves in optimism and began to think out of the boxes on finding best approaches and strategies with which we would achieve the administration's top priorities, which were: Infrastructure, Ratification, Security and Inter-Community Relations.
However, our valued residents, esteemed stakeholders and the invited guests, it is our pleasure to inundate you with the achievements recorded so far and the giant strides that were made with the mandate our people unanimously gave us to serve them as EXCOS and below are our score cards beginning with the infrastructure, so let us go on a journey….
INFRASTRUCTURAL DEVELOPMENT
You would agree with me that Infrastructural Development & Community Welfare is the key enabling condition in improving the quality of life and hallmarks of a Community like ours desiring to become an Estate, and the reason we embarked on what I called; 'LIGHT UP ALABEKO' as an initiative aimed at driving out darkness that almost overshadowed our potentials as an Estate with the immediate installations of STREET LIGHTS in all the streets in this Estate, powers at nights with or without the EKEDC Supply to give us the confidence to move about at night, especially the T.Y Danjuma Road that used to be the 'No go Area' for Uber Drivers and other visiting Persons once it was 7pm, which we felt it was not ideal and didn't portray us in good light as an emerging Estate, but we are happy the story is different today!
Still on infrastructure, we created a road map, excavated waterways that will later culminate into for concrete gutters and interlocking of our roads by building bridges where necessary for easy passage of cars, as well as the time to time grading of our roads, for we knew good road network and proper waterways are symbols of a standard Estate, which is our collective goal as a people and target for this EXCOS, until the time was against us!
Also, this EXCOS worked tirelessly to secure our boundaries with the installation of iron gates and barricades with standard security houses that is powered at night with generators across all the entrance gates in this Gardens, we knew this step was necessary to strengthen our internal security as the porosities our entrances have become avenue for security breaches, which this EXCOS didn't take with a pinch of salt and reason we embarked on perimeter fencing and gating to block all the loopholes into our Estate, we are happy this was achieved with your supports!
Lastly on infrastructure, this administration craved and created a befitting identity for Lekki Atlantic Gardens by re-modeling our major entrance, secured with the CCTV Camera being managed by the engaged Estate Manager in the re-modeled Estate Office that we furnished with the latest technologies and furniture in town for optimal operation and efficiency to serve you all.
How about where you are all currently seated, our Secretariat? It is being given a facelift that befits an Estate and we hope the successive administration continues in this spirit of standardization and actualization of our collective dreams of making the ATLANTIC GARDENS the cynosure of all eyes among its counterparts.
SECURITY
It's indisputable that we are all currently yearning for improved security system following the upsurge in the insecurity that is obviously going out of hands if not addressed with the state of emergency, not only at the federal level, but also at the grassroots, which is where we need security most based on our level of vulnerabilities and hence the reasons we re-strategized the Estate's security architecture, re-orientated and did proper profiling for the security personnel we inherited, re-packaged them to standard and improved their salary for optimal performance, but unfortunately, some of our people wouldn't stop harassing them due to familiarity and why we had to take a step further to engage the Corporate Security Personnel to manage our day to day security, equipped them with the modern technologies to aid their operations while we set key performance indicators for them to beat as they watch over us all during the day, traversing the nooks and crannies of this Estate to ensure no breach in our internal security as they are complemented with our night guards who ensure the night is as safe for us all as the day.
Of course we didn't stop at that, we spread our tentacles and secured and engaged external security outfits like the Military Officers under the aegis of Nigerian Legion, Security Patrol, RRS, The Nigerian Police among others who routinely and strategically carry out their operations in the Estate time to time and all in a bid to ensure a safe, secure and healthy ATLANTIC GARDENS where the residents are confident of their safety and could sleep with the two eyes closed, and i am sure you can all tell the difference today!
RATIFICATION
Please, I would be glad if you could all appreciate every member of the Committee on ratification including myself with a resounding applauds, as we have worked so tirelessly to get to the verge of breaking the news about our papers, i mean these people never get tired anytime i call on them for follow up and i wonder where they get such an encouraging enthusiasm from, and infact, this is the reason we have been able to push the processing up to the 95% right now if i have to quantify our efforts and i am profoundly confident that you would receive the news shortly, so you all have got to be very optimistic, it is almost in the bag!
Permit to mention names, like Pst Fisayo and Mr Amara, whose passion and unshaken commitment to this struggle are worthy of emulation as i cannot thank you enough, let us get recharged and give it one last shot to bring home the much anticipated desired results! Thank You!
ELECTRICITY
You would recall power supply was almost forgotten before we took over, but following an holistic assessment carried out on our power supply at the inception of this administration, part of the outcome was that we needed to break away from the Estates with which we shared the supply like Eden Gardens, if we must have an improved supply.
This administration got the EKEDC on its toe, secured the separation and championed the improved supply through the Load Sharing and it can only get better, as soon as this administration's proposition of having a Mini-Injection Station that is aimed at skyrocketing the supply in the five Estates to about atleast 95% steady supply is fully considered. I have done the BQ, presented it and i am anticipating seeing the green light to get this done according to plan.
Also, we installed new electrical poles where necessary in the Estate and maintained the Estate's existing electrical infrastructure to function optimally.
INTER-COMMUNITY RELATIONS
The name of our Estate rings a bell at forums, especially among the comity of Estates and Community Development platforms. No doubt, we are emerging as an Estate, but our steady growth within the space of two years has wondered them and endeared them more to us for mutually beneficial relationships which we welcomed putting your interests first. One of such relationship currently exists with the Ogombo Owode Community which led to our collective dredging and clearing of the canal at one of swampy boundaries that collect waters during the rainy season, which at some point, got blocked and water couldn't flow, almost resulted to flooding in the Estate if not for the rapid responses of the two communities.
To save the cost, the two of us contributed to get a Swang Buggy Caterpillar that did the job so perfectly and we wish the successive maintain this relationship.
PEACE AND HARMONY
You all wonder why this is an achievement, right? It's the greatest of all the achievements because this administration took over amidst turbulence, conflicts and crisis that almost snowballed into leaderlessness and lawlessness in the Estate if not for God's quick intervention and some well meaning individuals and patriots among the stakeholders and residents who took the bulls by its horns to ensure things didn't fall apart completely and may i use this medium to appreciate them all for such noble roles they have played, and most importantly, my EXCOS, with whom i steered the murky waters of rescuing the Estate from the imminent collapse, a big thank you.
FINANCIAL STATEMENT
I would like you to relax your nerves and give me your rapt attention as we present the financial statements to you, the hired auditors have done their beats and our ever indefatigable Financial Secretary is also ready to take you through how we survived the first 100 days with the inherited empty treasury, when the EXCOS had to task themselves to pay the security salaries and maintained other Estate's infrastructure before we had a financial breakthrough.
APPRECIATION AND ACKNOWLEDGEMENT
This speech is with no substance if I fail to acknowledge and appreciate people who are instrumental to everything we have been able to achieve as an EXCO.
May i first of all thank God, who preserved us all to witness today and may i please, with due respect, request a one minute silence for a very active member of this Estate that we just lost and may the Almighty God forgive him and give his family the strength and grace to bear the loss and protect the rest of us.
I also want to use this medium to thank my dear family, the children and the wife who i had denied fatherly attention and quality time as a result of my tight schedules as Chairman, i mean, to the glory of God, there was ever no external meeting or function, especially on ratification and court cases that i didn't attend myself as the Chairman, even though i had to cancel many business appointments and my usual foreign travels, this is because to whom much is given, much is also expected.
Also my EXCOS, honestly they are fantastic, i wonder what i could have done without you, you constantly gave confidence and reassurance that we could do it, and yes we did, thank you very much, i can't appreciate you enough!
My sincere appreciation goes to the stakeholders and our elders who never disregarded me despite being a son to them, they rather rallied me round, answered me swiftly any time I called on them for wisdom and advice, and we have also deemed it fit as an EXCOS to show our gratitude for their monumental support with the AWARDS of APPRECIATION to the following outstanding members, Estate, stakeholders and tenants in Lekki Atlantic Gardens (Home and Abroad) and they are:
1.Engr Odetayo Funminiyi Oyedele
2. Mr. Omondiagbe Christopher
3. Alhaji Ibrahim Sulaiman
4. Mr. Mbamalu Amala Ebenezer
5. Mr. Sogbola Solomon Olufisayo
6. Hon Julius Solomon
7. Mrs Emilia Ohia
8. Mr. Ojo Rotimi
9. Mr. Ali kawu
10. Mr Jacob Philip Jolly
11. Mr. Stephen Kizito
12. Mr. Eletu Lukman Babajide
13. Mr. Ojerinde Mustapha
14. LT. COL S A OLAYIWOLA
15. Mr. Okunola Ojo
16. Atlantic Layout Estate
I say a very big thank you and may God never let you down in all your various human endeavours too, thank you.
ENGR ADEWALE GBAJOBI
CHAIRMAN
LEKKI ATLANTIC GARDENS, AJAH, LAGOS
2019/2021
END
Quadri Balogun, a Digital Journalist, Content Creator, Communication Specialist and Multimedia Professional writes from Lekki, Lagos, Nigeria.