BrandiQ Reports
A league of women under the aegis of Nigerian Women in Public Relations (NGWIPR) has held ITS maiden edition of the PR Students on Campus.

Summit, an initiative targeted towards attracting new talents to the PR Industry in Nigeria was its key objective as expansively highlighted during the first virtual edition which was held exclusively for
students of the University of Lagos.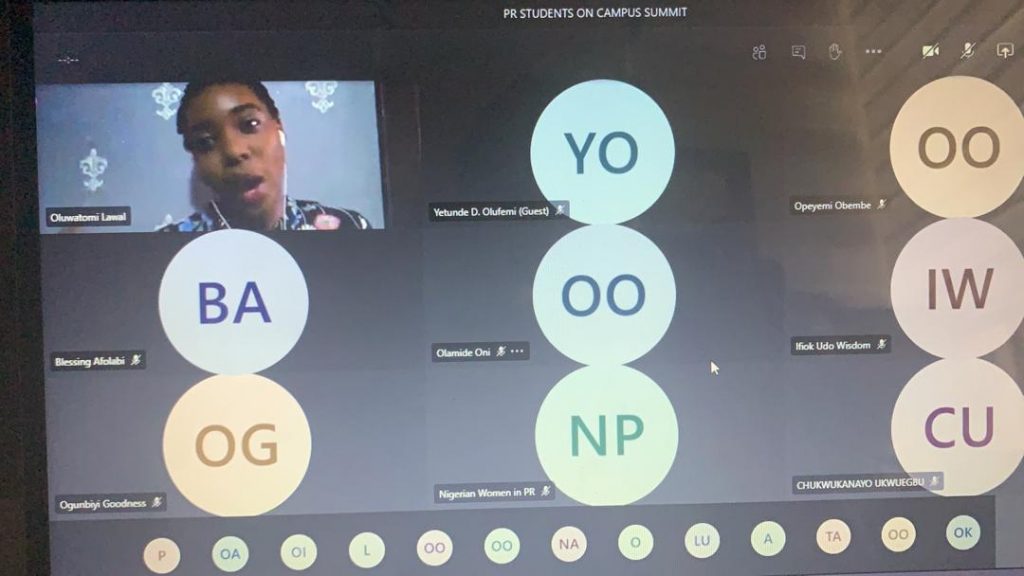 While addressing the Journalists, the Founder of the Nigerian Women In Public Relations, Tolulope Olorundero, said: "The public relations industry in Nigeria is ageing, and there is an increasing draught of
fresh talent coming into the profession. It was based on this realisation that we
conceptualized the PR Students on Campus Summit."

She stressed that, according to the 2020 Nigeria PR Report, the Public Relations industry needs to
"…ensure we are able to keep our best and brightest talent who can continue to move
the industry forward." The Report further recommends that "agencies and organisations
need to share knowledge from their stories, experiences and case studies with each
other and the academia so that we can become a true learning industry. Some of these
insights can be presented at seminars and conferences to contribute to the growth of
the industry. It is important that we build a community where professionals can relate
and share experiences and then look to see how local context-based solutions can be
arrived at to meet clients' needs."

On his part, Head of Department, Mass Communication, University of Lagos, Dr Tejumaiye added that: "I was quite happy to learn about this noble initiative by the Nigerian Women in PR.
While the Department has a robust curriculum, events where town and gown can
interact always provide practical guidance to the theories taught in class."

The PR Students on Campus Summit edition for the University of Lagos had two young
professionals who spoke to the students about their PR journey. Oluwatomi Lawal, an
alumnus of the University of Lagos and Communications Officer at Mosron
Communications spoke on how she discovered Public Relations as a 400level student,
and some of the things she wished she had known while in school. "If you don't like to
write, you should have a rethink. Public Relations will make you write!" she said while
describing a day in her work life.

While Olamide Oni, a Public Relations Executive at Finchglow Group and a graduate of
Tai Solarin University of Education, her experience was significantly different. "I started
doing public relations activities from 100 L when I joined a unit in church as an
undergraduate. Now, I realise that when we went around asking students why they suddenly stopped coming to church we were actually doing stakeholder and crisis
management."

This is the essence of the PR Students Summit," says Olorundero. "We believe that
practicing professionals don't have to reach the zenith of their career before getting
credible platforms to share their knowledge and experience. So, on the one hand we
provide a learning atmosphere for undergraduate students to discover and learn about
the nitty gritty of public relations, providing sufficient information to help them make an
informed career decision. On the other hand, we provide a credible platform for young
public relations professionals to develop public speaking skills and also share
knowledge."

As part of the Summit, the Nigerian Women in Public Relations unveiled its Students
Ambassadorship program where five (5) female undergraduate students will be selected
across each tertiary institution in Nigeria. "Our Student Ambassadors will have access
to internship opportunities during school breaks. More importantly, the Ambassadors will
immediately commence PR activities on their respective campuses, assisting to
organize events, manage communications between the organization and their school
authorities. The Student Ambassadorship program will help them gain practical public
relations experience while giving them access to mentors and other growth
opportunities," said Amarachukwu Chimuanya, the Community Manager for Nigerian
Women in Public Relations.

Nigerian Women in PR, established in 2019, is a not-for-profit organization created to
build a robust network of practicing and aspiring female public relations professionals of
Nigerian descent. Its aim is to support, inspire and empower these professionals while
improving access to career advancing opportunities. With its robust programs including #PRin30seconds, Students Summit and #ThrivethruPR, the organization is determined to support female public relations professionals get and retain a seat at the table where
far-reaching decisions are made.