BrandiQ News
From generation to generation marketing plays a great role in engineering the anticipation, production and distribution of goods and services to attend to human needs; and to satisfy desires to match human wellness. Philip Kotler, a marketing icon, refers to it as a science and art of exploring, creating and delivering value to satisfy the needs of a target market a profit.
Over the years, marketing and its practices have grown beyond the boundaries of the customer and moved into the realm of nation building based on ethical practices. It is a major pillar of economic growth and national development – enhancing the Gross Domestic Products, GDP, of economies through value creation and exchange, and improving the quality of lives of people through the production of goods and services that enhance the wellbeing of the people. It ensures the planned economic growth in the developing economy where the scarcity of goods, services, ideas and excessive unemployment, thereby marketing efforts are needed for mobilization of economic resources for additional production of ideas, goods and services resulting in greater employment.
A University Don, Uche Ezeokafor, says that the role of marketing of marketing in any economy is unquantifiable, as economic welfare and well-being of nations have improved greatly by marketing activities. He affirms that "Marketing is responsible for industrial development, technological advancement, and economic emancipation of any nation (developed or developing). Marketing is the prime mover of economic development activities in Nigeria just like in other advanced countries of the world."
 It is against this background that the National Institute of Marketing of Nigeria, NIMN, decided to expand the scope of discourse of the value of marketing in Nigeria, and the imperatives of its practices based on ethical principles through a planned conference in Abuja.
The Institute led by a marketing pro and expert of many years of experience and scholarship, Idorenye Enang, has announced its upcoming conference, to be held in the capital city of Abuja on Thursday, June 22nd, 2023. The conference aims to shed light on the indispensable role of marketing and ethics in driving sustainable nation-building efforts.
Under the theme of "The Role of Marketing and Ethics in Nation Building", the highly anticipated event will gather marketing professionals, experts, scholars, and thought leaders from across Nigeria.
Attendees will engage in insightful discussions, share best practices, and explore innovative strategies that can contribute to the overall growth and development of our great nation. In today's rapidly evolving landscape, marketing plays a crucial role in shaping perceptions, influencing behaviour, and driving economic progress.
"As we navigate the challenges and opportunities of the digital era, it is imperative that marketing practices align with ethical principles, promoting honesty, fairness, and accountability. By upholding ethical standards, we can ensure the long-term success of businesses, enhance consumer trust, and contribute to the socio-economic advancement of our nation," a statement reads.
The NIMN President noted that for Nigeria to attain sustainable development there is a need to imbibe strong ethical leadership while harnessing the nation's greatest asset, the people.
Enang said the conference was inspired by the need to review the Nigerian ecosystem while creating a platform for discourse with relevant stakeholders including the government and private sector to share ideas on delivering better leadership quality and harnessing its human resources for sustainable development of businesses and the economy.
"I believe that our greatest asset as a country is our people. As an institute, we are developing ways to foster conversations around the role of marketing and ethics in building the nation. What makes a great nation and what makes a great person is ethics."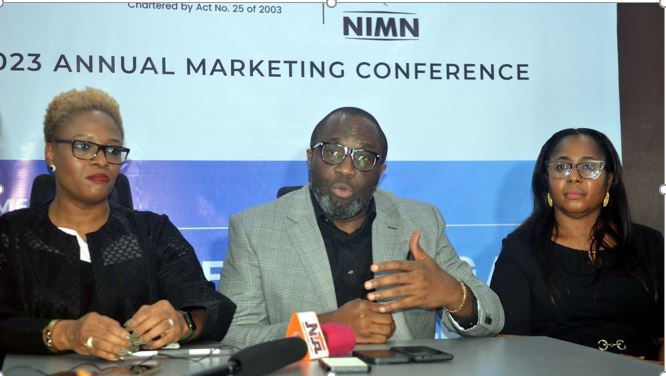 The conference program will feature keynote speeches, panel discussions, case studies, and interactive workshops, covering a wide range of topics with speakers such as Mr. Lolu Akinwunmi, Group CEO of Prima Garnet Africa; Mike Iteumagbor, Chairman of Padmozi Sports Marketing.
Prof. Uchenna Uzo, Professor of Marketing at Lagos Business School; Dr Ibrahim Yusuf Ohida, Senior Lecturer at Nasarawa State University; Dr. Nechi Nceako, CEO at EL-Values Advisory; Prof. Agbo JC Onu, a professor at Ahmadu Bello University, among others.
These distinguished speakers and industry experts will share their invaluable insights, highlighting successful ethical marketing campaigns, innovative approaches, and emerging trends. Participants will have the opportunity to network, exchange ideas, and forge collaborations that can further drive the ethical marketing agenda in Nigeria.
The NIMN conference serves as a platform to inspire and empower marketing professionals to adopt ethical practices that align with the core values of integrity, professionalism, and social responsibility.
The institute cordially invites all marketing professionals, academics, government officials, and stakeholders in the marketing industry to join the conference in Abuja. This is to pave the way for a brighter future built on ethical marketing practices.